Neatware Blog (RSS)
The Highlights of Windows Vista
Thursday, February 1, 2007
Multimedia

User Interface

Security

UAC (User Account Control)


Give admin and users more rights to control such as install software

Defender


Apply to against pop-up ads and unwanted spyware

BitLocker


Allow users to encrypt and password-protect their data on notebook.
IDE Requirements
Wednesday, January 31, 2007
Multiple text edior; Icon and image editor; Optimized compiler; GUI debugger; Performance analyzer and profiler; Wizard generator; Organized project; CVS version control; Bug tracking database; Configuable package builder
Windows Vista as Home Media Center
Tuesday, January 30, 2007
Today Microsoft finally released Windows Vista for consumers in New York City. In the conference, Microsoft sees Vista as a platform for the "digital lifestyle." That is the Home Media Center. So it is PC not XBox as the Home Media Center.
More About LBPV2 and HP DV9005 Laptop
Friday, December 29, 2006
We have done advanced testing on HP DV9005 17-inch Laptop with AMD Turion 64 X2 Dual Core processor.
In the Fullscreen mode of Ladybug Player Vista 2, the HD movie clips looked more sharp and vivid. Ladybug Player Vista 2 played videos in true fullscreen mode like games. However Windows Media Player and other players actually applied frameless windows as fullscreen.

There were Copy Screen (fn+prt_sc) and Copy Active Window (alt+fn+prt_sc) functions in the DV9005. The Copy Screcan snapshot a picture under True Fullscreen with the resolution 1440x900. These were vivid pictures!

Ladybug Player Vista 2 can play shared HD 720p videos through Wireless-G WLAN in real-time. Is this a streaming video? The advantage of sharded files is that videos can be located on other servers such as Linux and Mac. This is easy for corporation local area network and wireless home network.

Notebook can connect an extra monitor by S-VGA port. In contrast to Windows Media Player, Ladybug Player Vista 2 can be launched as two tasks. So we can play one video on a large LCD screen and another on the screen of Notebook. We need to select the resolution of the second monitor.

Laptop can be a mobile entertainment center for home use. The wireless connection between a laptop and a HDTV is going to make this possible.
Boxing Day and HP 17" Laptop
Thursday, December 28, 2006
The Boxing Day was a special shopping day in Canada. Almost all the goods got 10% to 75% discount. In the Best Buy, customers were waiting for the purchase of laptops in a long line in the Boxing Day.
We purchased a HP DV9005 with 17" LCD, AMD Turion64 X2 Dual Core TL-50 Proecessor, and GeForce 6150 graphics card at the price CAD$999.99. To US dollar it was US$850. That was a good deal and we came back to test it soon.
The HP 17" laptop is a big mobile entertainment workstation. HP DV9005 includes many ports such as USB, 1394, Expansion Port 3, S-Video, VGA output, 5 in 1 SD/MS/Pro/MMC/XD slot, and build-in WiFi. There are a DVD recorder and a HP remote control as well. It also left an unavailable HDMI space there. The pre-installed Operating System is Windows Media Center.
Now let's see what we have found to test Ladybug Player Vista 2 on HP's laptop.
The single WMV-HD 720p could be played in real-time. However, 1080p HD video could not be played in smooth. The audio was break. The hardware was not fast enough for 1080p.

It can run four WMV-HD 720p videos with Frame Rate Per-Second 5.96 to 9.10 at fullscreen. The CPU usage was 94% to 100%. This was based on the 1GB memory, 2GB colud improve performance.

The GeForce graphics card supported Shader Model (SM) 3.0. This was a bonous. It means that we can apply larger HLSL codes. Usually, we pre-compiled HLSL effects with SM2.0 for availability of more computers.

Another surprise result was that we can display an JPEG picture with the resolution of 2848x2136. Actually Ladybug Player Vista 2 should be able to display the picture with the resolution less than 4096x4096. This was contributed to the capabitility of GeForce 6 series plus graphics cards. The SM3 only required 2048x2048 texture size. In other words Ladybug Player Vista 2 can display extreme high-resolution still pictures from 10M pixel digital cameras.

We can download video from Internet through a wireless local area network (WiFi) in Wirelss-G at 48Mbps.
AMD's Fusion
Wednesday, December 13, 2006
AMD's Fusion chips, the silicon-level integration of CPU and GPU, are scheduled for launch in 2009. AMD plans to roll out its Fusion chips at the 45-nanometer technology. Fusion is a System-on-a-Chip (SoC) approach under X86 architecture for computers of handsets, notebooks, desktops, and servers. It is expected as a processor with the best ratio of performance and price at per watt.
A GPU is good at stream processing while a CPU is good at general computing. The Fusion processors will make video processing in real-time possible. Ladybug Player Vista will be a perfect software that takes the benefits of Fusion processors.
70-inch LCD TV In Volume
Monday, November 27, 2006
Samsung Electronics announced on November 24 that the company plans to volume produce 70-inch LCD TV panels in February 2007. The LCD TVs will support full HD (high-definition 1080p) in February or March 2007.
The size of LCD TV becomes bigger and bigger. It is suitable to divide a super-large screen into multiple zones for digital signage. That is the power of Ladybug Player Vista 2.
PS3, Wii, and XBOX 360
Tuesday, November 21, 2006
Recently Sony and BOX 360 is simply ignored.
In summary, the strategy of PS3 is the most welcome for ISV. PS3 may challenge desktop PC in the ratio of performance and price as well as openness.
Homogeneous and Heterogeneous Multi-Core
Wednesday, October 25, 2006
Merged AMD-ATI plans combined CPU/GPU chips in '08 is the news on EETime today.
The most profitable PC business is server. AMD with 30% market share is in good position. ATI's high-end GPU coprocessor will enhance AMD's position in high-performance computing. Intel is completely empty in high-end streaming computing. Multi-core can not replace pipeline processor in GPU. Why Intel is always lagged on Technologies? BTW GPU is more like coprocess and will be embedded into a chip.
AMD is in the Heterogeneous explore for Multi-Core but Intel is in the Homogeneous explore. Who is better for Moore's Law?
Quad Channel HD Video
Wednesday, October 4, 2006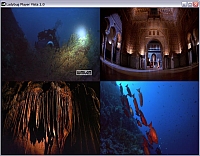 Several days ago, we wrote a blog said that our software need Quad-Core processors, now we are doing Stress Testing on Ladybug Player Vista 2nd Generation with quad channel HD videos. The purpose is to investigate the reliability, scalability, and performance of software.
In our stree testing, Quad Channel HD WMV videos run as a slow animation on quad zones of a screen. (Click thumb image to see the snapshot). The FPS is 4.17 to 7.48; the sound, badically is noise; the CPU usage is: 100%. So far it is slow but was played in reliable. Anyway four High-Definition Videos are showed on screen of our low-end PC.
Here is the list of our testing system and configuration.
Pentium 3.0GHz HyperThread Processor
512MB Single SDRAM Module
Intel 865 Chipset with AGP 8x
ATI Radeon 9600 SM2.0 256MB Graphics Card
ATI Catalyst 6.9 Windows XP Driver
Samsung SyncMaster 793MB 1024x768 CRT Monitor
HD WMV Videos 720p (Canbe download from Microsoft website)

Amazing_Caves_720.wmv
Coral_Reef_Adventure_720.wmv
Discoverers_720.wmv
The_Living_Sea_720.wmv
We are expected 10X+ speed up when Ladybug Player Vista 2.0 is applied on Quad-Core 64-bit Processor, 1GB Memory, ATI Radeon R600/NVIDIA GeForce G80/SLI/CrossFire, PCIe Motherboard, and 56 inch LCD TV. Multiple channel High-Definition video playback requires more bandwidth and computing power.
The Faster The Better.
Who Need Quad-Core Processors?
Monday, Sepember 25, 2006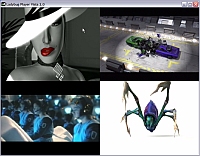 Ladybug Player Vista 2.0! This is a snapshot of upcoming Ladybug Player Vista 2.0 (click to enlarge). There are quad videos on the quad-zone to be played. Each video channel will be good for a core to processing.
Today Intel and AMD only pay more attention on the server applications of Quad Core. Ladybug Player Vista showed that media computing required fast multipl core processors as well. In our Ladybug Player Vista 2.0 beta testing, when four videos were played simultaneously, the CPU Usage of Solo-Core Pentium is near 97%. When we stopped one video the CPU Usage became 93%. If only one video was played the CPU Usage was near 76%. To play 720p HD video it required more CPU Usage.
The conclusion is that the bottleneck of Quad Channel video playback is on CPU side instead on GPU side. Real-time, multiple window, and High-Definition video requires much faster processors. In the near future a processor with 128 cores will be demanded for Ladybug Player Vista. Not kidding.
The World Is Flat. So does Ladybug Vista 2.0
Friday, Sepember 21, 2006
"The World Is Flat: A Brief History of the Twenty-first Century" by Thomas L. Friedman is an interesting book. "The rising of trade and political barriers and the exponential technical advances of the digital revolution have made it possible to do business, or almost anything else, instantaneously with billions of other people across the planet." This is globalization. The flat means that the curvature is zero. We know that the earth (world) is a sphere and its curvature is a constant! These are away from the topic.
The upcoming Ladybug Player Vista 2.0 will be falt! The User Interface of previous version of Ladybug Player Vista is in hierarchy. It consists of Manager, Preview, and View. Version 2.0 will compact or mix multiple layers into a flat plane. The surface of an object presented more information of an object.
Keep in mind the upcoming release of Ladybug Player Vista 2.0
The 25 worst tech products of all time
Tuesday, Sepember 12, 2006
This is an article on InterGovWorld.com. The number 2 worst product is RealNetworks RealPlayer (1999). The author dislikes RealPlayer because of its SPY behavior of the software. Annoying users they are going to blame you in public.
Optical Sensors Detect Corrosion of Oil Pipeline
Friday, August 25, 2006

Optical sensors have been applied for monitoring the rate of corrosion in oil piplines. Report is here. We have seen a lot of optical sensor applications from the Sensors Expo & Conference 2006 in Chicago. An advantage of optical sensor is that a sequence of sensors can be linked along with a line of optics.
AMD and ATI Together
Sunday, August 6, 2006
AMD and ATI became one company now. In short term AMD can provide an integrated chipset for AMD's X86-64 processors. In long term AMD can even provide a SoC (System on Chip) processor with memory control, graphics, and communication. A SoC processor will be perfectly suitable for laptop computers, which is the fastest growth market and AMD is lagged after Intel. AMD/ATI may become a Winodws Vista optimized platform in the near future. Intel may have more connection with MacOS.
ATI is making its RV550 to play HD DVD or Blue-ray with 1080p H.264 and VC-1 hardware decoding UVD (Universal Video Decoder). It means that 1080p HD video will be available for mainstream users in an integrated chipset. More details at DailyTech. What are the responses from Intel and Nvidia?
Neatware welcomes any performance improvement of graphics on Windows for Ladybug Player and others. Neatware software strongly support AMD/ATI, Intel, Nvidia, and Microsoft Windows X86 platforms.
Multi-channel and Multi-core
Thursday, July 27, 2006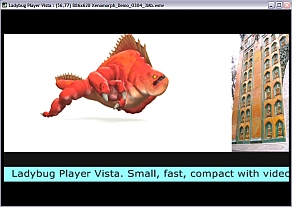 Today multi-core processors become popular. Intel just released its Core 2 Duo for both desktop and mobile. AMD was talking its 4x4 processor with double dual-core. But what applications require and apply the functions of multi-core processors?
The picture is the real-time mixing of a video, a picture, and a ticker video.
Single thread software is not going to benefit from multi-core processors for itself. The least condition is to use multi-threads or multi-processes in a software. Ladybug Player Vista is this kind of software, which accepts multi-channel videos and decode each one and mix them all with programmable shader in GPU. A key requirement is real-time processing.
The multi-thread engine inside Ladybug Player Vista creates many threads and allocate them to run on multi-core processors automatically. In contrast solo core processor can only execute each thread of decoder in sequence.
Processor is only one aspect to the performance of an application. To video applications, other aspects are CPU memory bandwidth, GPU performance and bandwidth, and speed of rendering. For example, we may expect 64-bit Ladybuy Player will be faster than 32-bit player.
One interesting performance factor is fullscreen mode. Almost all media players only run on frameless fullscreen mode, which allows easy control of windows. However, almost all games run on true fullscreen mode for performance. In our testing of trio video mixing , the frameless fullscreen can achieve 37 FPS in average. The true fullscreen can achieve 47 FPS in average, that is nearly 27% speed up!
There are no fast enough computers. Software can always make a computer slow!
Google...innovative?!?
Monday, June 19, 2006
"Google...innovative?!? Come on!" is an article on InfoWorld. Even the idea of integration between search and advertising is from Overture. What Google's doing is simple: dump free software and services on the Internet and attract more and more persons to click Google's advertising. The definition of innovation may be beeter described as an advertising term. Another popular advertising term is free.
Bill Gates Stepping Down
Friday, June 16, 2006
"Bill Gates will transition out of a day-to-day role in Microsoft effective July 2008 to spend more time on his global health and education work at the Bill & Melinda Gates Foundation, and will continue to serve as the company's chairman and an advisor on key developrojects." Microsoft Press Release
So far Intel and Microsoft have changed their leaders from technical guys to professional businessmen. Is it a good news for many small software and hardware companies?
When Intel was dependent on charging customers by the minor GHz difference on X86 microprocessor, AMD innovated its X86 platform and forced Intel to adapt dual core early to catch up. At the same time when Microsoft paid more attention on Windows Vista, the so-called another Moon Project, Google silently made its data center to become an information center of the world. Why Wintel get wrong?
Honest to say Bill Gates is a good corporation leader because he understand the details of technologies. So he knew what he was doing. Bill Gates' withdraw also hints the change of Windows strategy.
Before Microsoft's Windows Strategy is simple: Bundle more and more software in Windows. Microsoft provides free components such as media player and make profit on Windows . Furthermore, Microsoft copied and modified new innovations and features of software from third parties for their own products. Microsoft acted as both a landlord and a vendor on the Windows mall. Microsoft made software in every catalogies on Windows. Almost all of them lost money except Windows and Office.
Bill Gates tried to kill big ISVs in Windows by copycat strategy. ISVs did not make money on Windows anymore, they moved to Linux platform or explored new field. While Microsoft was enjoy to eat his partners' food, new lands was occpuied by other companies. Bill Gates' stepping down means the termination of Windows' strategy.
Bill Gates stepping down is a good news for ISVs.
Ethernet Business Model
Thursday, June 15, 2006
Bob Metcalfe, Ethernet inventor, now Ember Chairman had a Keynote Address "THE FUTURE OF EMBEDDED NETWORKING" at Sensors Expo 2006 June 7, 2006 in Rosemont, IL (Chicago). In his speech, he presented a term CSI, short for control, sense, and identify. This is similar to our term WSCN, Wireless Sensor and Control Network.
Bob Metcalfe describ Ethernet Business Model as
de jure STANDARDS, not de facto, certainly not NO standards,
implementations of these standards OWNED by companies,
fierce COMPETITION among standards-promoting companies,
market ethics that prevent competing by being INCOMPATIBLE,
EVOLUTION of standards based on market interaction, and
backward compatibility to INTEROPERATE with installed bases.
Bob Metcalfe is bright. Zigbee was obviously worked in this way. The extra more falsh memeoy for Zigbee stack is helpful for the standard. The interoperability of Zigbee standard is better than TinyOS so far.
Sensors Expo & Conference
Friday, June 9, 2006
I attended the Sensors Expo & Conference in Donald E. Stephens Convention Center, Rosemont, Chicago, IL on June 6-7, 2006. There are 200+ exhibitors showed their products and solutions. I came to learn many kinds of sensors and a lot of applications. The triaxial accelerometer from Freescale, Kionix, Bosch are impressive. They provided low-g three axis sensors could be easilnto our WSCN module to control our new-generation media player.
There are many Fiber Optic Sensors that can be used as distributed sensors such as a chain of sensors for temperature measurement. However I have difficult to understand how to integrate optic sensors with a MCU.
Many wireless motes are available most of them support Zigbee. Ti/Chipcon, Freescale, Ember, Jennic provide a SoC with MCU and wireless functions. MaxStream's RF module with long distance over 1.6km is interesting. Although many manufacturers start to support Zigbee standard, its complexity of application development may limit Zigbee's application.
Ti's 4-20mA transmitter is an interesting chip. It is good at the use of RTD temperature sensors. It is a new technology for industry applications. Unfortunately I can not find a manufacturer in the medial sensor applications.

I asked a TI guy if they are integrating RF into MSP430 family, He said yes. Obviously they have Chipcon now, and the step is in logic. Next year we may read a release of a MSP430/Chipcon SoC. Fine, that will work for our WSCN 1000 series.
The Use of Scripts
Tuesday, April 11, 2006
A: Take an order?
B: Yes, combo 3 please.
A: Coke?
B: Yes.
A: Here (or) to go?
B: To go.
This is an interactive dialog. As an daily customer I realized that a short script was much more effective and quick for service. It is
A: Take an order?
B: Combo 3, Coke, Take out.
You s a lot of persons are using scripts for daily life :-) Can we control Ladybug Player Vista with scripts? Tcl, Perl, Python?
Is your PC Windows Vista Capable?
Monday, March 20, 2006
From Digitimes "Leading notebook vendors, including Dell, Hewlett-Packard (HP), Acer and Asustek Computer, reportedly have slashed their orders for CPUs and chipsets already placed with Intel by 30-50% ..."
In addition, the article said "the planned year-end launch of Microsoft's Vista OS is also a concern as consumers are worried that the notebooks they buy now might not be able to run with the 64-bit enabled Vista OS".
Windows Vista Capable PC requires a modern CPU, 512MB memory, and a GPU that supports Windows Display Driver Model (WDDM). The CPU and memory are no problem. However only Intel' 915G+ GPU will support Shader Model 2.0+ for Windows Vista. So a notebook may have a question mark for its GPU chipset. Usually the use of modern ATI/NVIDIA mobile GPU will be Windows Vista Capable.
It is easy to check if a PC is Windows Vista Capable by running Ladybug Player Vista Demo. If a notebook can display mixed video files it is Windows Vista Capable!
IDE for What?
Friday, December 16, 2005
Thursday December 15, 2005, echusarcana (832151) posted on Slashdot.org
"An IDE typically reflects a programming environment where coding must be spread across a multitude of small files. In it's extreme, I'm not a big fan of this style as I don't think it documents the code well. An IDE often kicks in a build system, a debugger, a configuration management system, perhaps even a work management system. Integrated into one product none of these components is going to be ideal compared to dedicated tools. It much like an integrated stereo system - yes it does everything, but it will never sounds as good as discrete audio components."
This echoes our design of MyrmecoX Studio. It is much flexible without a project manager. Yes, it is fragement. Howerver, many times we can open a new file, write scripting codes, and one click to test it. Simple!
Ladybug Player Vista and XBox 360
Friday, November 18, 2005

XBox 360, a game console devloped by Microsoft, is going to be released on November 22, 2005. Except playing game you can also watch DVD and connect to Internet. Furthermore XBox 360 supports HDTV. Although the GPU and CPU of XBox are as powerful as an Extreme Game PC, Microsoft may only market XBox 360 as a game console. That is XBox 360 is an Appliance of a Windows XP PC or a Windows Media Center Extender (MCE) PC that can be connected by WiFi wireless network.
You see PC will still alive even if XBox 360 will be sold in lose. Microsoft may combine MCE and XP as one Windows Vista in the future. What is a Windows Media Center? That is simply a shell of Windows XP. By using Windows Media Connect technology, Windows Vista is the center and studio of Digital Home, XBox 360 is a game player.
How could Ladybug Player Vista, a Windows Video Player, related to XBox 360? That is the function of Windows Meida Connect. Without media center such as Windows XP Home, XBox 360 works as Windows Meida Connect Device that is able to stream media from PC via 802.11g wireless network. So you can generate any special visual effects by Ladybug Player Vista on Windows XP and watch them on your HDTV through XBox 360. Cool.
We have tried XBox 360 pre-release in Toronto. Although the game control is not wireless, it is comfortable to use. Now the game control can be used with PC. Looks like we need a new game control and ATI Radeon X1800 card with AVIVO video technology to mix 720p HD videos in Ladybug Player Vista.
VMware Player
Friday, October 21, 2005
Today VMware Player is free. So how does it to do with MyrmecoX Studio? That is the story. MyrmecoX Studio worked on Windows XP perfectly. And there were large corporations who asked us to port MyrmecoX Studio to Linux. So we'd done our research. MyrmecoX Studio IDE was wrote with MFC (how many developers understand it today?), that was specially difficult to port to Linux. OK, why not using Wine? The Wine? The windows simulation on Linux, is it a vaporware? We are not sure. At least we thought that there were no benefits on performance.
Now the VMware coming. It makes a Linux act as a windows application on desktop. Why VMware is perfectly match MyrmecoX Studio? Firstly, developers can write, debug, and test their own scripting codes by using MyrmecoX Studio under Windows XP. Secondly, when developers want to port or test their codes to Linux, they can switch to Linux under VMware. MyrmecoX Engine can run on many other platforms such as Linux and Mac OS/X. Finally, developers can test deployment and packages on single PC. Sounds productivity.
Search Engine Comparision
Sunday, October 10, 2005
We renamed Ne@tware Player 2005 to Ladybug Player Vista on October 5, 2005. Five days later I am interested in checking how fast the search engines to know these changes.So I searched the Goole, MSN, and Yahoo at October 10, 2005, EST 2:56:20pm with the keywords 'ladybug player vista'. Here is the snap of the search result: (click to enlarge pictures).
It is a little bit surprise that Google has not upgraded to the new Ladybug Player Vista. Aha, google's engine does not execute as excellent as its competitors. Especially we have remind the Google about the new change of our pages. We did not do that on both MSN and Yahoo. Google has been promoted as a unbeatable search engine with thousands distributed computers, why its reaction to the change of the world is slow?
ATI's money experience
Wednenday, October 5, 2005
The delay of ATI's R520 made ATI drop to the bottom in business. From Beyond3D "when the issue was eventually traced it had occurred not in any of ATI's logic cells, but instead in a piece of 'off-the-shelf' third party IP whose 90nm library was not correct. Once the issue was actually traced, after nearly 6 months of attacking numerous points ..., it took them less than an hour to resolve in the design, requiring only a contact and metal change".
We have the similar experience in our software design. One third party component worked fine. However in special cases there were bugs. It was hard to trace this bug. The default parameters of the component had been set in special values that caused the bug. Until we completely rewrote this component by ourselves and finally found the reason.
Default values of settings can be a source of bugs.
The Speed of USB Flash Drives
Wednenday, September 28, 2005
"The harddisk is the slowest part of a modern computer. While reading files is relatively fast, writing data to the disk takes a lot of time." This is also true for Flash Memory. We tested some USB Flash Drives and focus on the result of Read and Write speed. The Read/Write speed of USB2.0 High-Speed drives are 12.9/5.5MBs, 10.4/5.3MBs, 9.4/2.1MBs, 7.8/3.8MBs. The Read/Write speed of USB1.1 drive is 1.0/0.7MBs. The Read/Write speed of SATA Hard Disk is 45.7/32.6MBs.
The speed of USB Flash Drive is different even if they are for USB2.0. For Ne@tware Player 2005 although the video playback did not feel slow for streaming reading, the database update operation is obviously slow when write speed is below 5.0MB. The USB 1.1 is too slow to video playback. In contrast to USB Flash Drive, SATA Hard Disk is super for video stream.
Mobile Computing
Saturday, September 10, 2005
is the information processing in portable devices through wire or wireless network connection.
Mobile Software is the software stored in a portable device and can be carried on everywhere. A Mobile Device can be connected to a Host System through a standard interface such as USB or WiFi. The Active Mobile Device includes a processor and memory so it can work independently. MP3 Player, iPod, PDA are examples. In contrast the Passive Mobile Device does not contain a processor such as USB storage device.

Mobile Software can work for the processor of the portable device or work along with the processor of a Host System. Thus, a Mobile Software can plug and play while the portable device is connected into a Host System. No installation on Host System is required.

Mobile Software and its device can be a token for security access to replace passwords. Many security features can be added on it such as vpn access, network access, web access, email access, boot and file protection, security key and certificate storage, and self-enrollment key.
The configuration database of a Mobile Software provides the information for different Host System. The Mobile Software allows user mannually or automatically select the setting data.
Wednesday, August 24, 2005
Microsoft plan to support Linux with Virtual Server. Virtual Server 2005 R2 will be support for Linux and Solaris. Virtualization Technology allows more virtual machines to run on one server. VMWare from EMC is widely used virtualization technology at present.
It is a good news for upcoming Neatware's MyrmecoX Studio 4.0. Why? For a long time, some Neatware's customers asked for the MyrmecoX Edition on Linux. We acturally explored this solution. However to develop a new edition for Linux, we need almost rewrite a new software package. The ROI is questionalbe.
Thanks to Virtualization Technology, our customers can develop cross-platform programs on Windows platform then test and deploy on Linux and other platforms in one PC. Lots of troubles are avoid. It is much easy to maintain and manage one source code base.
MyrmecoX Studio plus Virtualization Technology is a powerful environment to development of Enterprise Applications.
Friday, July 22, 2005
Cell is a general processor with a PowerPC core (CPU) plus 8 SPUs (DSP). So what are Cell's technology edges and its drawbacks?

1. No general programming model available to use Cell's SPUs is a drawback. It is difficult to catalog Cell's computing into the threading or streaming model. Cell's SIMD is similar to Intel's MMX except there are more processing units. It is hard to sync these SPUs to work together.

Although Cell's SPU instructions can be embedded into C++ code, there are no signs show if the SPU needs a new high-level language or just transparancy to software. The fundamental question is the programming model for SPU of Cell. IBM or Sony is clear. Doubt it.

2. GPU is better and more effective than Cell in graphic processing. GPU is a better vector processor for general purpose computing. Multiple GPUs can be used for large scale computing based on streaming model.

However one strength of Cell is its double precision floating point vector. This is very good for medical image processing with high definition. If Cell's SPU's floating point computing is faster than integer computing, many algorithms of codecs can be rewritten.

3. Multiple core CPU is better than Cell in general computing. Supported by thread model, multiple core CPU can speed up threading programs. The performance of current Ne@tware Player Engine with multiple thread support inside can be improved instantly without modify one line of code after the using of multiple core CPUs. Cell has no compatibile advantages.

4. Cell processor is not a low power consuming processor compare to Pentium M and ARM processors. It is hard to apply it on portable devices. Wait second, the Cell portable may be a change. Who knows.
Wednesday, July 1st, 2005
Since Sony will open its PS3 as an open architecture computer, Microsoft may have to open its XBox to ISVs. The closed XBox will go to hell without ISV's support. However if XBox is opened the Home PC market will be shrinked.

Sony boasted that its PS3 can be a cheap Linux PC. Hey, we're going to see what they said is true or not. C++ is for dual-core Pentium; HLSL is for XBox GPU; so far we still do not know what high-level programming language is suitable for Cell programming.
Wednesday, June 30, 2005
General shader pool architecture is a right selection for future GPU. So a shader can be a vertex shader, a pixel shader, or a geometry shader. Aha, it can even be a physical shader, though a physical processor has not aappeared in the market. XBox 360 GPU (R500) looks impressive.
Wednesday, June 1st, 2005


Linux Impression. In 1995 we had tried to use the Linux but its installation was so poor, we had to drop it. In 2002 we tried the Linux again, however its GUI was not mature and hard to use. We dropped it again. Yesterday we started to install Fedroa, the Linux distribution package by RedHat.

Except the unnecessary display of report of the states, the installation was quite smooth and easy. GENOMA is the default GUI of Fedroa. It looks more like Windows GUI. However it is a mean 'copy' of Windows GUI. At first its speed is slow compare to Windows XP. The major problem is its use of font. The size and type of font look like inconsistance. It is more like the font used in a cartoon. The ratio of the icons and fonts are not well designed in a screen. Its design violated the first principle of the GUI - consistence. The usability also needs to be improved.

Where is the small, fast, console based Linux?

Saturday, May 21, 2005




This is an interesting article Microsoft's Xbox 360 Vs. Sony's PlayStation 3?
What Microsoft said sounds reasonable. But these words are weird

"Dot products are critical to games because they are used in 3D math to calculate vector lengths, projections, transformations, and more. The Xbox 360 CPU has a dot product instruction, where other CPUs such as Cell must emulate dot product using multiple instructions."

Dot products are widely used on geometry computing, so it can do fast on GPU. This one instruction comparation is nonsense.

PS3 may require new programming model called streaming programming to explore its functions. But PS3 may speed up multiple video and audio codecs such as Ne@tware Player's multiple video mixing. That is benefit to the real-time interactive game in the future. For example, you can join into the game with the video cameras.

In such a low price and performance, Xbox 360 may kick the PC out of the entertainment business. Why I should buy an entertainment PC rather than an Xbox 360 or PS3?



Thursday, May 12, 2005




Today Microsoft released its XBOX 360 in tech details. Lets look technology first.

Custom IBM PowerPC-based CPU
* 3 symmetrical cores running at 3.2 GHz each
* 2 hardware threads per core; 6 hardware threads total
* 1 VMX-128 vector unit per core; 3 total
* 128 VMX-128 registers per hardware thread
* 1 MB L2 cache

Custom ATI Graphics Processor GPU
* 500 MHz
* 10 MB embedded DRAM
* 48-way parallel floating-point dynamically-scheduled shader pipelines
* Unified shader architecture

Memory and Bandwidth
* 512 MB GDDR3 RAM
* 700 MHz DDR
* Unified memory architecture
* 22.4 GB/s memory interface bus bandwidth
* 256 GB/s memory bandwidth to EDRAM
* 21.6 GB/s front-side bus

Compare to XBOX 360, the current CPU and GPU in highest-end PC really look like toys. Microsoft is a software company before now it owns one of the fastest chip with low price, do not know if these chip companies still sit there comfortable.

There are three cores with "Hyper-Thread" in CPU. The 1MB L2 cache is less than dual-core P4.

The GPU is astonished. The 10MB EDRAM is the great design. Look at its memory bandwidth: 256GB/s. You can store two high-definition textures with 2048x2048 = 4MB in EDRAM. When I read this I opened my eyes, the price of current high-end GPU without EDRAM was equal to the price of entire XBOX 360! What is wrong?

Welcome Microsoft to bring the competition or form a new monopoly.



Monday, May 7, 2005




Standards for a pop good book: 1) interesting theme 2) active words 3) well organization 4) compact, clear, fluent expression 5) nice picture and diagram 6) complete discussion 7) taste of humor and quote 8) suitable logo and notes 9) right typgraphy 10) consistant style.

Monday, May 2nd, 2005




NikkeiBP "Toshiba demonstrated that its Cell microprocessor, jointly developed with the Sony Group and IBM Corp., can simultaneously decode 48 SDTV format MPEG-2 streams."

We noticed that these videos are displayed in grid with small size windows. In addition, there is no video mixing. In contrast, Ne@tware Player 2005 can mix four 720p HD videos in fullscreen with Intel/AMD's dual-core CPU and NVIDIA/AMD's GPU. Fairly to say, Cell processor is suitable for the computing of multiple codecs. Ne@tware Player has moved the computing of video mixing to GPU that has greatly reduced the burden on CPU. So let us look at the response from Intel and AMD.

Thursday, February 17, 2005




Today John C. Dvorak's article Between a rock and a hardware - comments on the anti-virus community was angered by Microsoft's decision to develop and market its own antivirus software. Following is the blog about Microsoft's XBOX.

Why ISVs are not going to support XBOX 2?
XBOX's Business Model


is to sell hardware in lose and make money from software (games). So every ISV who supports XBOX is a direct competitor of Microsoft at the beginning. Microsoft is willing others to share their profit in the lose of their hardware business? Big question mark.

Expensive Development Platform


XBOX 2 is not designed based on widely used X86 platform but on Power platform. Many software tools and libraries are not available to ISVs. ISVs have to spend more on extra hardware and software resources as well as training. Even Microsoft itself, because Windows was not designed as platform independent, they will have many troubles to port their own software to XBOX2. Looking at how long they port Windows from 32-bit to 64-bit X86 platform you can find the answer.

ROI Risk


In XBOX 2 Microsoft will finally dominate every game's catalog. The initial investment of ISVs may have the risk to "gone with the wind". Looking at Microsoft's action on anti-virus software, can you believe that any renters can fight the landlord and renter as one?
Saturday, January 22, 2005
Today we are very glad to test the PowerDVD 6.0 codec along with Ne@tware Player. The result is absolutely astonishment. We opened the VOB file in the DVD movie the PowerDVD 6.0 codec correctly fit the video window in Neatware Player window. Before PowerDVD codec has a bug to do so. Then the vob video can be viewed in true fullscreen and in arbitrary windows size. Moreover we can watch the DVD video with our effect shaders! The most surprise good news is that we can watch DVD over a cup model in real-time! In real-time! Wow! Make your model, your effects, and your DVD and watch your movie fly. Try Ne@tware Player 2005 Demo here.

Friday, January 21, 2005
To achieve attractive visual effects, the requirements of graphic cards are getting high. Today, the price of a high-end graphic card is equal to a low-end PC. More and more low-end PCs were sold with the minimum graphic features. To these so called brand new PCs with basic graphic feature supports, Neatware Player 2005 will show no visual special effects. These users may have not realized that they have a crap without new functions. To our applications the graphic cards that does not support SM2.0 are craps. Sorry about that.

Many users and hardware vendors complained that software was lagged to adapt the new features of hardware. But the question is why ISVs develop software for the special hardware features that may have not been adapted as a standard and by users? Is it better that hardware vendors fix their features in three years? Hardware vendors should compete on performance rather than on non-standard features.

Tuesday, January 4, 2005
The Day of Spyware. As an ISV (Independent Software Vendor), Neatware knows how to write software. Long time ago some companies contacted us and wanted us to allow their adware or spyware embedded into our popular Ladybug Player. Sure they were going to pay. But we refused them. Their plans violated our principle.

The spyware is invisible, hard to detect and erase. Spyware can wait for months or years to active. It can be hided in cache and memory; it can be in files; it can enter your system by visiting a website, open an attached file, or break into an application. However the more horrible attack of spyware has not come.

The combination of spyware and virus will cause more serious damages.
Tuesday, July 29, 2003
To service our users better, Neatware opens the blog today. Blog can help us share information about our products and solutions as well as their releases, upgrades, and tricks. Please feel free to email questions, comments, and concerns to Neatware.
---
Your comments are welcome.