Ladybug Mixer
Compose
UHD video and Camera stream
with Special Effects!
| | | | | |
| --- | --- | --- | --- | --- |
| | Multi-Channel | Special Effects | Streaming | |
Compositing live and vivid videos, showing stunning visual effects in high-definition, Ladybug Mixer, a multi-channel media mixer with real-time visual effects, works greatly for your video applications in video processing, digital signage, and surveillance. Developers can design, test and instant select their own HLSL shaders for streaming video processing from multiple IP cameras or other video sources.


Cutting-edge Technologies

mChannel technology supports multiple channel video in parallel

Multi-thread video engine naturally use and accelerate on multi-core processor

Realtime Cinematic effects like Zone Blending Triptych

Dynamic HLSL Shaders with JIT compiler and loading

Ultra High-Definition video and picture support

Flat, embedded, and transparent Dual GUI for Laptop and Tablet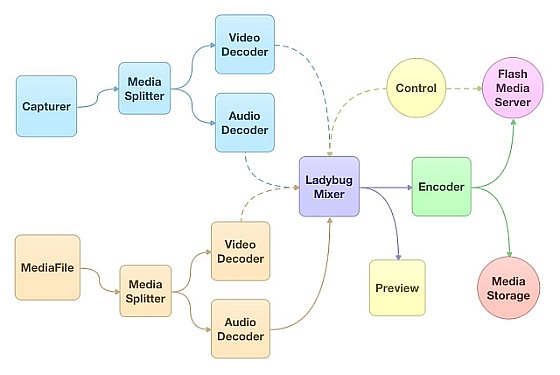 Support Ultra HD 4K video playback with effects

Capable add Customized Shaders by developers into mixer

Apply 128/256-bit SSE/AVX SIMD processor accelerate video processing

Embedded SQL database for configuration management

Support IP camera, TV tuner, DC and Web camera

Synchronize multi-channle video playback

Support image HDR effect upto 8K image



A zone blending picture with saturated sun light and vivid color by Ladybug Mixer Pro.


Real-time Video Processing

Remix raw video with your video and picture library

Select video or pictures in a play list for animation slideshow

Composite broadcasting video with background in green screen

Multi-tasking and multi-screen support for screen wall






Three Videos Blended to Generate a Super-Wide Video by Ladybug Mixer Pro




Working for Your Demands

Save your time and cost to prescreen your movie clips

Mix attractive video and advertising on digital signage player

Watch HD video from your PC in your Home Theater

Play video in your mobile tablet or ultrabook