Home Theater and Video Network
Home Theater
Along with surround sound of Home Theater, vivid visual effects can bring you into a wonderful world. Ladybug Mixer plus Pioneer?VSX-1016TXV A/V receiver is an excellent solution for Home Theater both on professional visual effects and surround sound.
Pioneer?VSX-1016TXV A/V receiver can input high-quality audio and video with ultra- convenient connectivity. The receiver includes two HDMI inputs (and one HDMI output) with upto 1080p resolution. With three HD capable component video inputs, you can connect a progressive scan DVD-player/recorder, an HD gaming console, and an HD cable or satellite set-top box to your receiver. You can also connect iPod to the receiver. Pioneer's receiver is excellent on suround sound through its sound retriever technology. As a professional sound system, VSX-1016TXV receiver is economy at the price USD$450.
Ladybug Mixer can output visual effects through HDMI port on PC to the receiver.
Home Video Network
1. Make a Home Video
As camcorders to be inexpensive and widely available, many consumers start to shooting their own videos for entertainment. However the post-processing is a time consuming procedure. Ladybug Mixer can do video composition and effects in real-time so users can save lots of time and money. In addition, users can show Ladybug videos from Windows PC to a large LCD HDTV screen through home wireless network.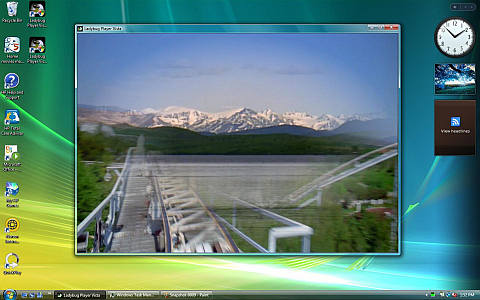 An Example: Create A Christmas Video
Shoot a main video and a background picture.
Launch Ladybug Mixer
Open main video file in the first channel
Open background picture file in the second channel
Select shader [Duo Channel] Wipe Circle
Input text string "Merry Christmas and Happy New Year" in the ticker box
Click Play All button
Click right mouse button to hide the control
Save as configuration into a MyChristmas.nwm file
Video will be showed in the center around circle frame of the picture and scrolling ticker
Later you can double click the MyChristma.nwm file to lauch your video. That is it!. Simple, plain, stupid!
2. Video Sharing via Wireless Network
There are many electronic devices at a home today: HDTV, DVD Player, Game Console, PC, Cellphone, iPod, Printer, Router, and so on. All these consumer electronic devices are going to be connected via a home wireless network in the near future.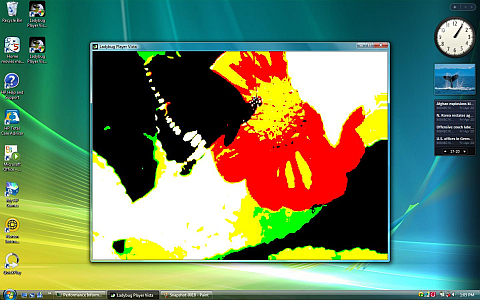 Highspeed broadband, WiFi, and WiMax have made video communication and sharing adaptable. In a Wireless LAN, video sharing acts as streaming video that is not forced to download into the player. So videos are played instantly while they are transmitting. Furthermore, high-resolution video can be played in real-time.
A Windows Vista PC with large capacity storage can be served as a media center with storage and security. Ladybug Mixer allows you to remix videos and photos in the media sharing center at real-time. And you can record the remixed video in an DVD recorder or a DVR device. So you can distribute them online.