Ladybug Mixer for Stream Computing
Stream Computing analyzes and processes multiple data/media streams in live. A typical stream computing system is consist of multiple input streams and a single output stream along with a processing unit (mixer). A stream can be a live video, audio, and data. As one of a Big Data Platform, Stream Computing Systems have been widely used to provide solutions for many real-time applications in Surveillance, Healthcare, Manufacture, Green Energy, and Internet of Things.
Worked with Adobe Flash Media Server, Ladybug Mixer can stream high-quality live video with effects through Internet to any devices such as smartphone, tablet and pc. Ladybug Mixer can be used for multiplayer games, video conference, and Big Data video processing. The diagram of Ladybug Mixer for Live Streaming Video application is as follow.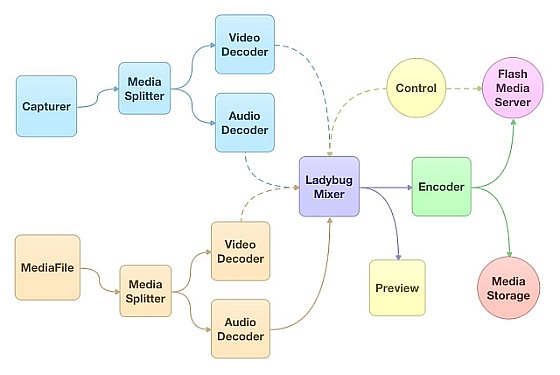 The media system provides following capabilities:

Video Processing
Provide Video Processing Services

It supports multi-channel video mixing with effects, supports HTTP Live Streaming (HLS) and Video On Demand (VOD), supports Industry-Standard MPEG-4 (H.264) video, and provides 64-bit Server in High-Performance and memory usage


Control Video Publishing Workflows

Advanced access controls for authentication, monitoring, and media location mapping


Leverage Cloud and Data Center Service

Integration into enterprise network and system


Video Streaming



The server supports protected HTTP streaming, on-demand stream packaging, and dynamic streaming. The capability of multicast reduces delivery for massive-scale live media publishing over Internet.



Video Communication


It supports adaptive bitrate live video to millions of smartphones, tablets, and smart TVs. The video playback capability includes fast seeking, H.264 codec support, and DVR. It also supports SIP-enabled devices and is able to integrate devices and conferencing technologies with a unified communication application using SIP gateway services.



Content Protection

It supports Access DRM, Real Time Encryption for RTMP (RTMPe), Token authentication, and Real-time encryption for multicast and P2P.