Video Presentation
Today most of presentations are made from a notebook with PowerPoint and showed on large screen through a projector. As the using of video camera became popular, more and more video clips are used as contents for living presentations.
1. Ladybug Mixer Video with PowerPoint Text
PowerPoint/OpenOffice are easy to make various text description and graphs for business applications. By using Chroma Key (Green Screen) technology of Ladybug Mixer *, users can put any PowerPoint/OpenOffice documents over a video in real-time. Below is the step to do: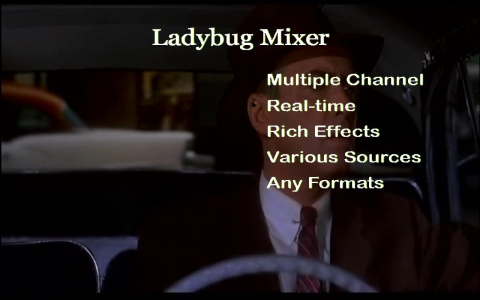 Create a slide in PowerPoint/OpenOffice

Set slide background to green
Insert and edit text or bar graph in PowerPoint/OpenOffice
Export slide as a series of BMP files

Mix video and PowerPoint/OpenOffice images

Add slide image series into first channel of Ladybug Mixer
Add video into and second channel and select it
Select green screen shader and adjust alpha bar to have best effect

Design a script to play Ladybug Mixer in automation
2. Ladybug Mixer inside PowerPoint
One way to make a video presentation is to embed Ladybug Mixer Configuration File (NWM) into a PowerPoint presentation. A user can input several videos or pictures and select an effect to generate a mixed video. Then he can simply save an NWM file and link this NWM file in the PowerPoint. In the presentation user can click a button to launch Ladybug Mixer with the NWM config file.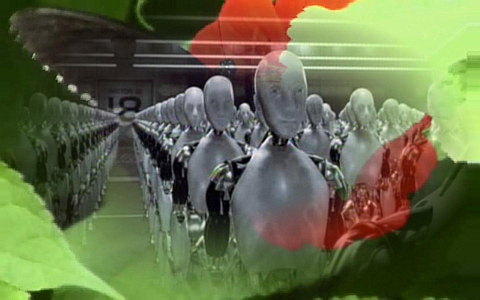 3. Record Ladybug Mixer Video By CamStudio
There are many video capture software that can capture video in a window. A free small software called CamStudio is one of them. You can download it here and download Ladybuy Mixer Trial here. In addition there is a commercial software Camtasia Studio 4.0 for professional screen recording.
By using Ladybug Mixer and CamStudio you can easily make a presentation video for your business. Your business video may include your advertising video or photo in one channel and your content video in another channel.
By using Ladybug Mixer, the procedure to make a presentation video is very simple. For example, you can input your green screen photo with your company's logo in channel 1. Then you can select your content video in channel 2. By selecting green screen effect in shader list you can preview the composited video instantly. Finally you may record the video by CamStudio.

Ladybug Mixer Professional